Our Imported EVOO's & Balsamic Vinegars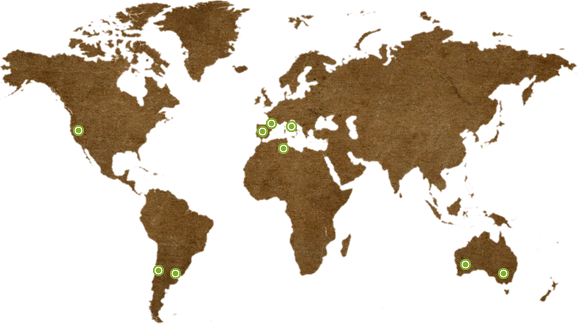 The Olive Oil Store imports seasonal extra virgin olive oils from around the world. Countries include Italy, Spain, Portugal, Tunisia, Australia, Argentina, Chile, as well as from the west coast of California.
Fresh trumps everything! Fresh extra virgin olive oil not only tastes better, the health benefits are significantly better as well. Our goal is to provide you with the highest quality fresh extra virgin olive oil. Therefore, we are excited to offer you extra virgin olive oil from many parts of the world. Since the Northern Hemisphere harvests begin in early October and extend to late February, and the Southern Hemisphere harvests begin in April and end in June; in an effort to always offer you fresh olive oil, we import both Northern and Southern Hemisphere olive oils.
"Where" the olive oil is milled is secondary to four more important variables:
The ripeness of the olive at the time of harvest,
the span of time between harvest and milling,
the temperature used for extraction,
and the storage methods used must be taken into serious consideration when selecting a fresh premium extra virgin olive oil.
These variables are priority in our selection of the olive oils we offer you. We are confident you will experience our premium extra virgin olive oil and taste the freshness!
Our balsamic vinegars are from Modena, Italy and speak for themselves. Not only is our 18 Year Traditional Condimento absolutely exquisite, but our Premium White Balsamic Vinegar, Organic Balsamic, and any one of our 30 infused balsamics will tantalize your taste buds! We also offer two honey vinegars that are out of this world! Balsamic vinegar is a tasty, low calorie, healthy way to add amazing flavor to your meals. Be creative, and experience new taste sensations that will delight your palate, and bring enjoyment to healthy eating!